ZEISS DTC 3/38 
Thermal Imaging Clip-On
Ensure that every night hunt is a success – the new ZEISS DTC 3 Thermal Imaging Clip-Ons offer perfectly compatible optics with a large and high-contrast 1024 × 768 HD AMOLED display, intuitive ergonomics, precise and user-friendly zeroing procedure thanks to the app-controlled zeroing assistant, virtually unlimited battery life, and numerous customization options.
Range and accuracy at long distances play a crucial role in night hunting in open terrain. The ZEISS DTC 3/38 covers a larger area, has a field of view of 12.3 meters at 100 meters, and an accurate click value of 1.6 cm at 100 meters – for extremely precise zeroing and thus highly accurate and ethical shots.
ZEISS V8 1.1-8×24 
Equipped for everyday hunting: ZEISS V8 riflescopes deliver more successful moments on the hunt than any other riflescope from ZEISS thanks to the combination of sophisticated features and their perfect interaction. Outstanding optical quality, an extra-large eye box for fast target acquisition, and the finest illuminated dot in the world make it an unsurpassed companion in any hunting situation. For greater success during your hunt..
ZEISS V8 1.8-14×50 
Whether for driven hunts, stalking, or in the mountains – thanks to its large field of view of 23 meters at 100 meters at the lowest magnification, outstanding optical quality with relaxed viewing characteristics, and extremely light weight, the ZEISS V8 1.8-14×50 is the perfect riflescope for any hunting situation. The finest and brightest illuminated dot in the world can be adjusted with extreme precision thanks to the riflescope's perfect ergonomics, while its compact design ensures that hunters can handle their weapons with the greatest of ease. The unsurpassed, versatile solution for greater hunting success.
ZEISS V8 2.8-20×56 
Plenty of reserves right down to the last bit of light – thanks to 92% transmission: the ZEISS V8 2.8-20×56's reticle in the second image plane produces a consistently fine illuminated dot throughout the entire magnification range. The 20x magnification and optional bullet drop compensation also make it great for long-range shooting. Minimal subtension and increased accuracy that hunters can truly experience – even at long distances.

ZEISS V6 1.1-6×24 
With the Conquest® V6 riflescope, ZEISS has once again set a new standard in precision and long-range hunting and shooting. Whether for sitting or stalking game, driven hunts or long-range applications – the Conquest V6 with 6x zoom is engineered to impress in any environment or scenario. It combines legendary ZEISS quality and technology with field-proven design into one robust package that's within every serious hunter's range.
With 92% light transmission, modern multilayer coatings and a wide field of view, the ZEISS Conquest V6 delivers incredible image quality and clarity, even in the harshest conditions and most challenging environments. The sophisticated optics are protected by a black, matt anodized aluminum housing built for whatever nature throws at it. Rain and trail-grime shedding LotuTec® lens coating and new optional ASV drop bullet compensation.
ZEISS V6 2-12×50 
This compact and versatile riflescope is a reliable companion in every hunting ground. The extremely fine illuminated dot and high magnification range of the Conquest® V6 2 – 12 × 50 bring high performance well into the twilight hours.
ZEISS V6 2.5-15×56 
With the highest light-gathering power, the Conquest® V6 is an excellent choice for stand hunting and, thanks to the optional BDC (ASV), is also ideal for long-range shots. The minimum coverage of the target by the illuminated reticle ensures a perfect aim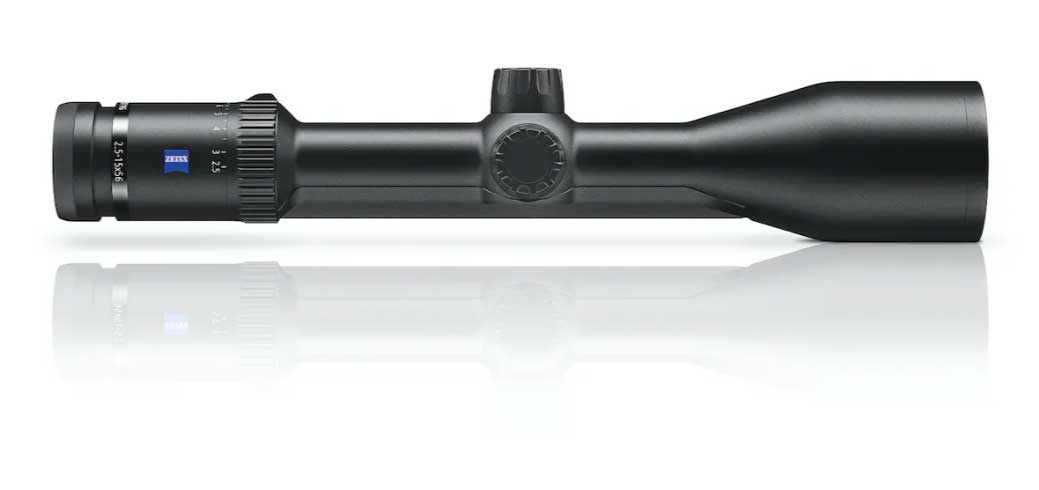 ZEISS OPTICS – CONFIDENCE IN TOUGHEST CONDITIONS
 Ota yhteyttä ja pyydä meiltä tarjous Zeissin kiikarista!
Lisätietoja:
SVAROWSKI EL RANGE KIIKARIT
The new EL Range offers the best combination of long-range optics and ergonomic design.

Ota yhteyttä ja pyydä meiltä tarjous Swarovskin kiikarista!
STEINER
Steiner Europe Hunt Promo
Ota yhteyttä ja pyydä meiltä tarjous Steinerin kiikarista!
NIGHTHUNTER XTREME
The ultimate in premium engineering, crafted for hardcore hunters seeking small, big or dangerous game wherever it's found.